And now, the end is near and so I face the final curtain...
A bit of a melodramatic start I grant you but this is it for another season.
We finish with a two week special edition to get us to that
final game at Sutton United
on 5 June and will then take a month or so off before coming back for pre-season friendlies at the start of July.
So how was your week?
The highlight for me, unsurprisingly, was spending Sunday at Wembley for the first ever Non-League Finals Day.
The action began at 1215pm with the FA Vase final between Hereford and Morpeth Town. The Bulls were a League Two side until fairly recently but financial disaster had seen them go bust and reform as a ninth-tier team. Consequently they brought an awesome following of 20,000 which comfortably filled their quarter of the stadium. Morpeth play in the parallel Northern League but are a much smaller club and brought a more normal 4,000 fans.
The match looked as if it would go to form when Hereford raced into an early lead but a slightly fortuitous equaliser brought the Highwaymen level at half-time. The second half saw an almost total reversal of fortunes as Morpeth scored early and then comfortably accelerated away to a comprehensive 4-1 win to totally upset the applecart.
To be fair to Hereford and their hordes of fans, most of them took defeat very graciously and were a credit to the spirit of the day.
In match two, the FA Trophy final, another two former Football League clubs faced each other after very contrasting seasons.
Grimsby were playing their second match at Wembley in a week after winning the all-important National League play-off final against Forest Green Rovers last Sunday, while Halifax had suffered the disappointment of relegation meaning the two will be two divisions apart next season.
The first half was pretty cagey with few chances but the second became interesting pretty quickly when a fine goal by the Shaymen's left-back gave the underdogs the lead.
The Mariners, with the prospect of a rare double slipping away, threw everything at their Yorkshire opponents but they remained resolute and repelled everything to end their otherwise disappointing season on a high.
With a crowd of over 46,000 enjoying proceedings, Non-League Finals Day actually outsold England's curiously scheduled friendly against Turkey up in Manchester which took place at the same time. A huge achievement for the non-league community who clearly saw the value of the event. There were a few minor issues that irked myself and others but they can definitely be rectified and hopefully we'll have an even better day next year.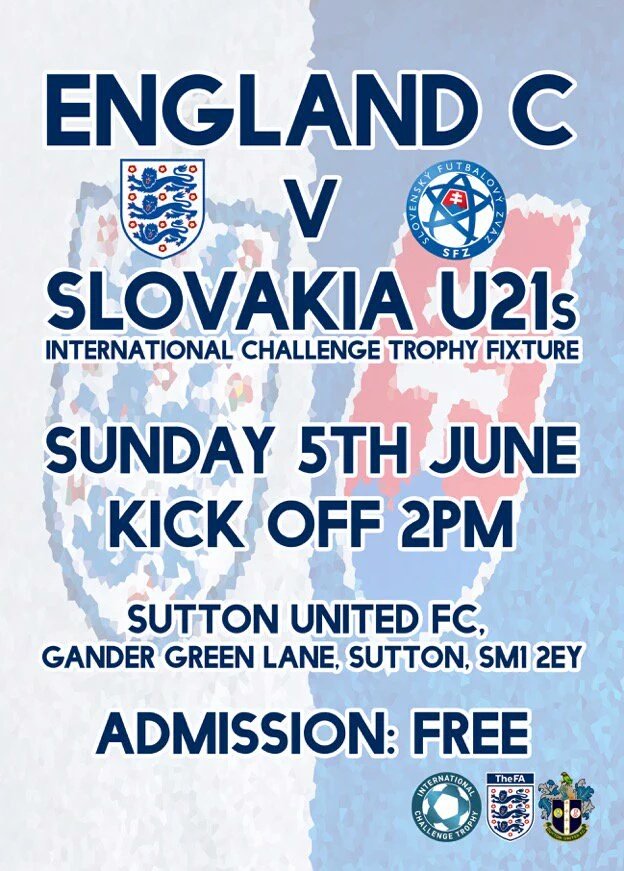 A fine way to end the season and get ready for the Euros
Although there isn't much going on over the next two weeks, the games are pretty significant. Not least the three Football League play-off games over the forthcoming Bank Holiday weekend.
Two London clubs will be competing for promotion -
Millwall
in the League One final and
AFC Wimbledon
in the League Two one.
Some tickets may well make it to general sale, in fact they already have for Wimbledon, so check the clubs' websites for the latest information. Tickets for the Championship game between Hull City and Sheffield Wednesday will probably be restricted to members only but check with them too just in case some do become available.
To finish off the season in the capital there's an England friendly against Portugal at Wembley on Thursday week and an England C (non-league players) game against Slovakia U21 at Sutton United's ground where it's free to get in.
It's been another fun season and I hope you've found this blog useful. Get in touch if there's anything else you'd like to see.
That's about it from me, thanks once again for reading. Have a great summer and enjoy the Euros.
THE WEEK AHEAD
There are only 7 matches in the London area over the next two weeks as the season finally comes to an end.

However, please make sure you check with clubs before you travel just in case a game has been called off or venue has been changed. Also, please let me know if anything is wrong or missing.
Details on all of this week's games can be found on the following match maps. If you've never used them before, please note that when there is more than one match at a specific ground you'll only be able to see individual match pins if you zoom right in. If you don't, the pins obscure each other and you might miss them. To avoid this, you can also scroll down the list of games on the drop down menu at the top of the map page to make sure you get all the information. Games are listed from top to bottom in date order so Monday's games (yellow pin) will appear first and Sunday's (white pin) last. Games are also ranked in terms of status so the higher the division, the higher up the list they will appear on each day.
Also if you're unfamiliar with the English league structure I indicate the level at which an individual league sits in the national 'pyramid' with the Premier League at the top (Level 1) and various minor leagues at the bottom (Level 10). Typically a top level game will see crowds of anywhere between 20,000-60,000. These figures will gradually decline as you go down the leagues until you get to Levels 8-10 where attendances of 150 or less are most common.

It should also be noted that the top four levels are for fully professional teams. Level 5 has a mixture of professional and semi-professional teams, while Levels 6-10 will see most players paid but it will vary from no more than travel expenses at the bottom, right up to several hundred pounds a week at the top (e.g. clubs in the Conference South).
MIDWEEK MATCH MAP
Red pin - Wednesday fixtures
Blue pin - Saturday fixtures
White pin - Sunday fixtures
WEEKEND MATCH MAP
Yellow pin - Monday fixtures
Purple pin - Thursday fixtures
White pin - Sunday fixtures


In the following section I list, by day, what are in my opinion the most notable games of the week and give some brief reasons for my choice. Check the maps above for kick-off times, ticket info and directions.
Wednesday 25 May
Chelsea Ladies v Sunderland Ladies @745pm - the hosts, playing at Staines Town, need to win to close the gap on leaders Manchester City

Saturday 28 May
Championship play-off final @5pm - Hull City and Sheffield Wednesday do battle at Wembley for the £100m+ prize of a place in next season's Premier League

Sunday 29 May
League One play-off final @3pm - Millwall look for an instant return to the Championship but will have to get the better of former Premier League club Barnsley

Monday 30 May
League Two play-off final @3pm - there's more London interest in the final match of the Wembley play-off trilogy as AFC Wimbledon face the mighty Plymouth Argyle

Thursday 2 June
England v Portugal @745pm - the Three Lions play their final warm-up game at Wembley before heading off to France for Euro 2016

Sunday 5 June
England C v Slovakia U21 @2pm - it's free entry at Sutton United to watch the cream of England's non-league players in this final match of the season
GET INVOLVED
If you're going to see a game, whether you're a local or a visitor, please let me know what you've been up to. If you're interested in reviewing a ground within the London area for this blog then get in touch. You might also want to have a go at writing a 'Top Ten' one week. I also very much welcome photos of your football travels.
Got any questions about visiting London? Don't hesitate to ask - be they football or more general travel/touristy queries.